Motion City Soundtrack plays final NEPA show at Sherman Theater
STROUDSBURG — Motion City Soundtrack's Justin Pierre has spent almost two decades as a professional musician, but his most surprising moments don't happen on the road; they happen in his Minnesota hometown.
"I just went to an area around Minneapolis that I hadn't been to in awhile and it's just completely different. Everything that I used to know is gone, and I think that's just like life in general," Pierre said. "Since I'm gone all the time I don't see that happening in real time. Buildings disappearing, buildings coming up, things going out of business, new things happening, people moving."
Pierre won't have to miss out on that aspect of life much longer. MCS is in the latter half of their So Long, Farewell tour; a string of dates stretching into late September that serve as a months-long, multi-leg goodbye to their fan base. The lead vocalist/rhythm guitarist said the shows are a bittersweet thing; he recounted crying crowd members and an ever-evolving set list that pulls from the band's six studio albums. The songs they'll play on their final dates — including Aug. 5 at Stroudsburg's Sherman Theater — were chosen on a trial-and-error basis.
"We usually start out and find out what is working and what isn't working – sorry to Seattle and Portland," Pierre said. "It's more about the flow for us and trying to include most of the singles and most of the fan favorites, and then you're kind of left with 'well, maybe two or three of these can be swapped out each night so the deep cuts are thrown in there.'"
The singer said he should probably be preparing more for the moments after that last chord rings out on the So Long, Farewell tour, but he doesn't want to stop creating art for art's sake. Whether it's another music project or an endeavor into visual arts, the end of his band's touring schedule doesn't mean the end of Pierre as an artist.
"That's kind of where my head is and if that turns into something bigger, great," Pierre said. "I don't really have any grandiose plans other than just taking some time for myself and my family and making art and seeing if people are interested in it. MCS means one thing, but Justin Courtney Pierre, who knows."
Pierre may not have his post-tour plan entirely figured out, but he knows he'll be home to watch the next patch of new buildings sprout up instead of returning from weeks on the road to find familiar structures gone. Weeks also give people room to grow; Pierre's looking forward to watching his daughter sprout up too.
"When you're constantly coming in and out of people's lives there's not a whole lot of time for absolute commitment in whatever form that is," Pierre said. "I've been fortunate enough to do a certain thing for a certain amount of time and I feel fulfilled. I'm looking forward to having another kind of life experience that involves raising a child, being a father and that life."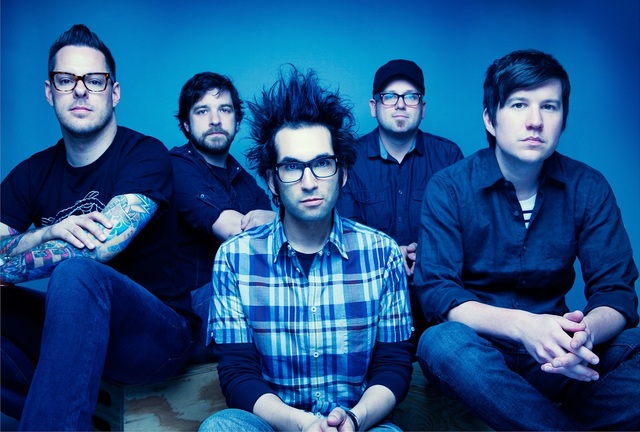 Motion City Soundtrack's first album, "I Am The Movie," was released by Epitaph Records in 2003. The band has released five albums since, including "Even If It Kills Me," which peaked at No. 1 on Billboard's Independent Album chart, and 2015's "Panic Stations," their final effort.
Reach Gene Axton at 570-991-6121 or on Twitter @TLArts
IF YOU GO:
Who: Motion City Soundtrack's So Long, Farewell Tour
When: Doors open 7 p.m. Friday, Aug. 5. Music starts at 8 p.m.
Where: Sherman Theater, 524 Main St., Stroudsburg
Cost: $25 in advance, $30 day of show.
Tickets available at www.ShermanTheater.com