Shavertown tattooer Ryan Ashley Malarkey advances on 'Ink Master'
Ryan Ashley Malarkey made her "Ink Master" debut Tuesday night, and she'll be sticking around in the competition for, at least, one more week.
The first episode of the eighth season of the popular, Spike TV reality show premiered Aug. 23, pitting Malarkey against 29 other nationally accomplished tattooers for the title of "ink master," $100,000, an editorial feature in Inked magazine. A first on the show, season eight has renowned artists and judges Oliver Peck, co-owner of Elm Street Tattoo in Dallas, Texas, and Chris Nunez, of "Miami Ink" fame, picking teams to mentor throughout the competition. The winner of the competition receives a residency in his or her mentor's shop.
Season eight quickly whittles down 30 contestant to 18, after which Peck and Nunez select their teams of nine. In subsequent episodes, artists are subjected to weekly challenges that test their technical skill and spontaneous creativity, which is scrutinized by a panel of judges that includes Peck, Nunez and Jane's Addiction guitarist, Dave Navarro.
Malarkey, 29, a Shavertown resident who has a studio in the Strange & Unusual oddities parlor in Kingston, which she owns with fiancé, Josh Balz, is known for her intricate, feminine, black and grey work.
Upon arriving at the competition, filmed in New York, Malarkey said she was curious to see how she stacked up against other artists in the current tattooing world that is rife with different styles and techniques.
"Everyone is trained differently, obviously with the same standards regarding legalities and blood-born pathogens and sanitation, but the core elements of tattooing have evolved over the years," Malarkey said. "You have the immediate feeling of wondering if what you're doing is the norm."
Beyond that, she had to assimilate into a field of talented artists, many of with whom she was familiar.
"I was going up against people I looked up to when I was apprenticing, that I still look up to," Malarkey said. "That part was crazy."
While scanning the field, Malarkey realized she was in the company of Kelly Doty, a Salem, Mass. tattoo artist known for pop surrealism with grim overtones, whose work Malarkey has admired since before she got into the industry.
"I was not nervous," she said. "I was more in awe that I was at a point in my career that I would be considered a peer of some of these outstanding artists."
If the concept and the contestant field were not daunting enough, Malarkey had to face her worst fear on the first day of competition.
American traditional tattoos exhibit clean lines and perfect color saturation, often in a depiction of time-honored subjects like ships, eagles, anchors or pin-up girls.
"My heart sinks," Malarkey said. "It's so simple, it's actually harder. There's nowhere to elaborate. There's nowhere to hide a little mistake if that were to be the case."
To complicate matters, Malarkey's human canvas was set on receiving a geisha.
"For me, geisha doesn't necessarily scream American traditional," Malarkey said.
Malarkey reeled for a moment but quickly decided she was there to compete and would take pride in putting forth her best effort. She didn't waste time trying to talk the person who'd be receiving her tattoo into a more challenge-friendly concept.
"I thought, this geisha may not be American traditional, but it's what this girl wants, and I'm altering her appearance forever,'" Malarkey said.
Sticking to her integrity, Malarkey completed a geisha worthy of advancing in competition with only one small slip up, getting scolded for using a color that was forbidden in the challenge.
"I used white, and I wasn't supposed to, but I did everything I could to make it as American traditional as I could, and that was my little signature on it," she said. "After the challenge, I felt like a weight had been lifted."
Although the first episode went beyond the initial challenge, Malarkey couldn't discuss more at the time of the interview due to confidentiality agreements. Because each episode might pull from several days of filming, not even she could be sure what was going to be included in the premier.
She did, however, offer her reaction to the first day of competing.
"I have to say that day one entirely changed my perspective on how real this reality TV show actually is," Malarkey said.
Her preconceived notions that challenges might be over-dramatized and over-produced were proven wrong.
"In this competition, it's black and white," Malarkey said. "You do a good tattoo, you stay. You do a poor tattoo, you leave. It's the most brutally honest, heart-racingly real competition I've ever been in."
"Ink Master" airs Tuesdays at 10 p.m. on Spike TV. Tune in to see how far Malarkey advances in competition.
Watch Spike TV on Tuesdays at 10 p.m. to see whether Ryan Malarkey continues to survive "Ink Master" challenges.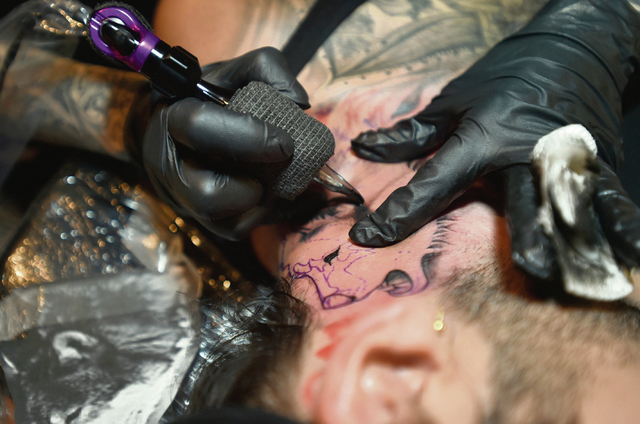 Ryan Malarkey tattoos Mikey Henger in her studio in Kingston. Malarkey's fast and crowded experience on 'Ink Master' was a vast change to her usual, tranquil, solo-artist environment.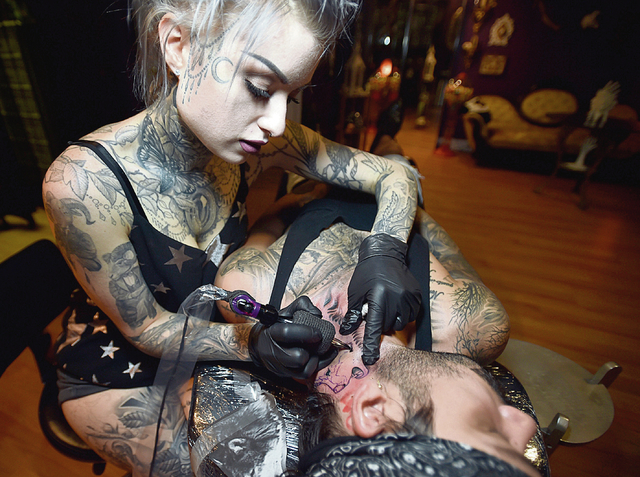 Tattoo artist Ryan Malarkey said after scanning the contestant field on 'Ink Master,' she was in awe of the fact that she had earned the right to compete among such accomplished artists.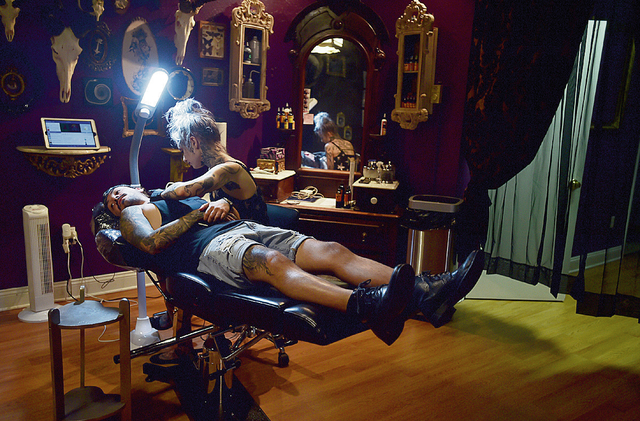 Shavertown tattoo artist, Ryan Malarkey survived the first challenge on 'Ink Master' by producing an American traditional geisha.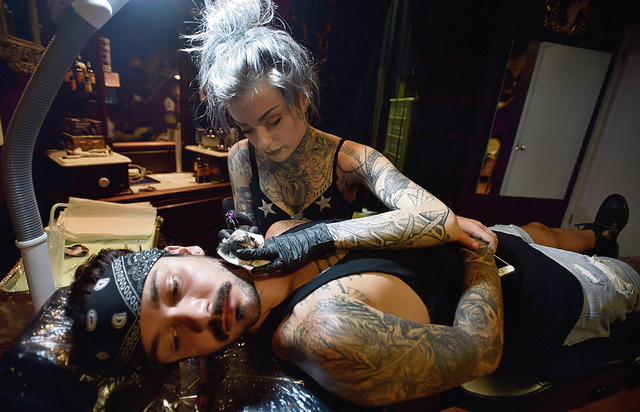 Ryan Malarkey is known for her intricate, feminine, black and grey tattoo work. Her first challenge on 'Ink Master' took her out of her comfort zone, demanding the American traditional style.
Reach Matt Mattei at 570-991-6651 or Twitter @TLArts