Ink Spot: Tattoo artist, Kristyn Emmett, brings a feminine flair to Wild Hearts Tattooing in Forty Fort
The old adage goes, 'Men are from Mars, Women are from Venus' – whether or not you subscribe to that sentiment, one thing is for certain: Kristyn Emmett's artwork is out of this world.
As the original lady of Wild Hearts Tattooing, Emmett has been preparing for her role as a tattooer for most of her life.
"Even when I was a little girl, I used to get coloring books and trace them instead," she laughed. "Art was something I've always done, so I've been preparing for this for over 20 years."
Emmett, a native of Carbondale, is a Marywood alum with a degree in illustration. After her time as a proud Pacer, she immediately sought out an apprenticeship and entered into her latest love affair – tattoos.
Stylistically, Emmett loves to challenge herself.
"I never want to pigeonhole myself as far as style goes," she said. "I love to challenge myself and take on new projects constantly, but I would say I'm known to have high quality work regardless of what I try to do."
Emmett started her tenure at Wild Hearts nearly a year ago, helping open the shop on Wyoming Ave with I.J. Hosey, the shop's owner and operator.
"We've been here almost a year now, and it's been wonderful," Emmett said. "We're still growing into the space and forming our own little niche here. We just took on a new artist recently – Jillian (Karosa, from Seattle, Washington) – and we're developing an awesome, wonderful base of clients."
"Tattooing has changed so much in the past few years," Emmett added. "It's constantly progressing. It used to be primarily a boy's game, but now it's everyone's game."
When not tattooing, Emmett can be found trying new things, spending time with friends and family, or enjoy the outdoors.
Here's a little Easter egg for those readers who read through to the end: Emmett said she will offer a 10 percent discount to any Weekender readers interested in her work and who contact her to schedule an appointment. Don't forget to mention this article though.
Kristyn Emmett, tattoo artist from Wild Hearts Tattooing has been creating skin art for three years.
Kristyn Emmett from Wild Hearts Tattooing has a feminine flair within her tattoos
Kristyn Emmett from Wild Hearts Tattooing said she find inspiration from everyone and everything around her.
Kristyn Emmett, tattoo artist at Wild Heart Tattooing is known for clean designs with a painterly artistry.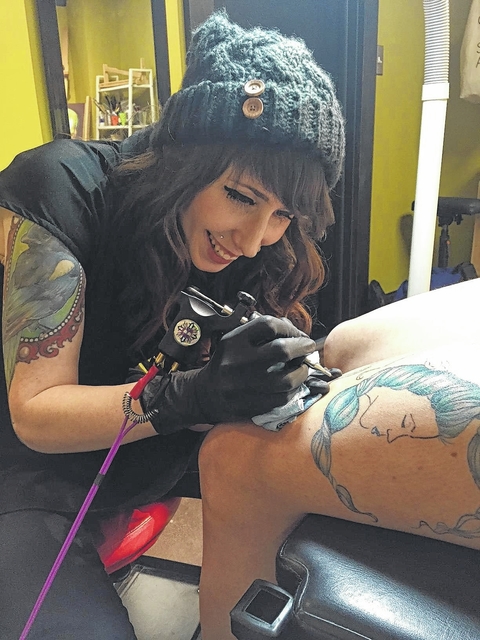 Tattoo artist Kristyn Emmett of Wild Hearts Tattooing works on one of her clients.
Rachel Holly is a correspondent for Weekender. Reach Weekender at wbwnews@civitasmedia.com.
Who: Kristyn Emmett, 26
Where: Wild Hearts Tattooing, Forty Fort
How long have you been tattooing: About 3 years
Signature Style: All across the board
What inspires you?: "Anything and everything!"
Most known for: Clean designs, painterly artistry, feminine flair
Follow her: On Instagram @kristynemmett