Lymphoma almost killed this Scranton musician — and his unrecorded music
Charles Russello said the guitar has always fascinated him — he has a photograph of himself at 5, toy guitar in-hand, and after a short stint with drums early in life, he replaced his toy six-string with the real thing at 15.
Russello began writing songs and began to grow a considerable catalog of original material. The Scranton resident founded an aptly-named band, Russello Project, six years ago. A year in, however, the project was almost cut short.
A lymphoma diagnosis put Russello in a life-threatening position, but after his mother and then-newlywed wife recommended he go for treatment at Fox Chase Cancer Center in Philadelphia, he battled back and came out the other end of the fight cancer-free. The lymphoma did leave a lingering complication though: an invigorated desire to exhibit his original compositions.
"That kind of really inspired me — 'You've been doing it forever, you've never put it out there, it's time to put what's most important in your life out there!' That's why I'm expressing my music," Russello said.
Now 48, Russello is readying his first full-length album for release this spring. The as yet untitled LP features Russello Project's current lineup of Russello (guitar), Candi Vee (bass) and John Carpenetti (percussion), with recent addition Carl Shinko providing keyboards. Russello said the album will include a number of instrumental tracks constructed around his guitar work, each meant to tell a story.
One particular tune, "Fly Away," is about his father's death and how close he came to joining his loved one on the other side. Russello said relating that story to the audience without lyrical content is his desire, and he does so by telling the story behind "Fly Away" before he takes his audience on the guitar-driven journey. If they don't relate to his version of life, he hopes they can take his music and relate it to their own.
"That's really important in my music, that people can relate to it in their own way," Russello said. "If a song is about death they don't have to hear that in the song. As long as they can relate that to something in their own lives, that's the goal."
Besides his own full-length release, Russello's other immediate goal for his musical endeavor is a live visual component. He'd like to perform at a venue well-equipped for an audio-video experience, like Stroudsburg's Sherman Theater or Jim Thorpe's Mauch Chunk Opera House. Where ever he chooses, Russello's music is a uniquely inspired experience in the Northeastern Pennsylvania rock scene.
Visit Facebook.com/RusselloProject to stay up-to-date on the band's tour dates and the status of the upcoming record.
Charles Russello said his playing style is heavily influenced by bands like Led Zeppelin, along with new age artists like pianist George Winston.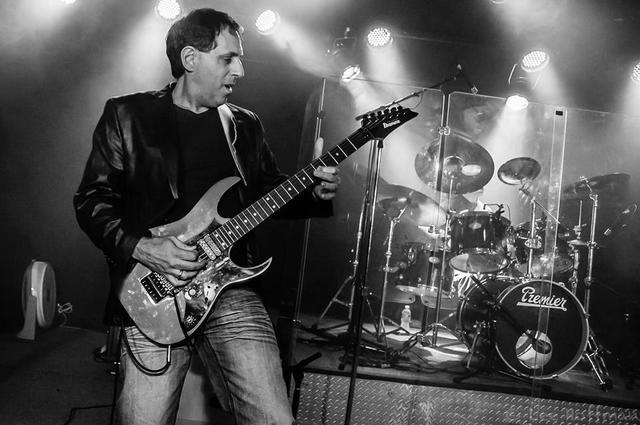 Charles Russello's band, the aptly named Russello Project, is readying its first full-length for release later this year.
Reach Gene Axton at 570-991-6121 or on Twitter @TLArts