Movie Review: Disney's 'Beauty and the Beast' fails to reimagine 1991 hit
Why does Emma Watson always look so deeply uncomfortable?
On screen and off.
Just watching her navigate through life summons up a mixture of fatigue and general anxiety. Not just because she approaches everything with an annoyed distance but also because she seems to carry the constant irritation of someone who has yards of fiberglass and cookie crumbs trapped beneath her skin. She's like one of those suicidal Robocop clones at the beginning of "Robocop 2" if it didn't tear its head off and was fetishized by guys in their late 30s who still throw around words like "bro-ski."
Watson's mannered coldness and limited range is barely tolerable in a supporting role, but as a lead, she's deadly.
That's a problem, especially in a film as stodgy and superfluous as "Beauty and the Beast."
Without her, the film is a like a trip to your aunt's house. With her, it's like a trip to your aunt's house that culminates with your aunt suffocating you with a monogrammed pillow reading "Ohana means family."
The 1991 version of "Beauty and the Beast" is a tough act to follow. Winner of two Academy Awards and three Golden Globes (including Best Musical), the film has saturated pop-culture to such an inescapable degree that even if you haven't seen "Beauty and the Beast," you probably know enough about the movie that watching it at this point almost seems redundant.
That also holds true for the 2017 version – even if you have seen it – because like Gus Van Sant's pointless "Psycho" remake, the live action "Beauty and the Beast" is nearly a shot-for-shot reimagining of the animated original.
Fans of the 1991 version might be breathing a sigh of relief, but under the auspices of director Bill Condon, the seams of this traditional fairy tale suddenly reveal themselves, and there aren't any colorful cartoon characters to distract attention away from the fact that they're watching "Every Secret Thing" if the Symbionese Liberation Army was replaced with an angry buffalo man and a barking footstool.
Stockholm syndrome can be sweet — I guess — but not this time around.
Running 45 minutes longer than its inspiration, "Beauty and the Beast" soullessly rehashes plot points from the original with a begrudging sense of fan-service. Watching the new "Beauty and the Beast" is like being forced at gunpoint to go on a walking tour of your own house while moving around on your knees.
Even though you're well aware of the next thing that's going to happen, you're still forced to endure it in the slowest, most punishing way possible. Not that the new additions are an improvement.
The over-hyped identity politics and sadly controversial reveal that Gaston's sidekick LaFou (a grating Josh Gad spitting out CBS sitcom-ready one-liners) is gay are almost subliminal and practically function as set dressing. Meanwhile, attempts to flesh out Belle (Watson) and The Beast (Dan Stevens) either fall flat or are weirdly misguided.
Apparently, Belle's mother died of the plague which is a needlessly grim (and instantly forgotten) dose of reality to place in a movie where Stanley Tucci plays a wisecracking harpsichord.
And speaking of CGI, it's not great in "Beauty and the Beast." The cursed servants that were so expressive and charming in the cartoon now have a creepy, dead-eyed menace that would feel more at home in a "Puppet Master" sequel.
The Beast, on the other hand, is reduced to an inexpressive mound of ones and zeros, a leaden cut-scene of a character.
Dull and unnecessary, "Beauty and the Beast" could be described as a tale as old as time at least in the sense that it seems to take a lifetime to sit through.
Dan Stevens and Emma Watson perform in a scene from 'Beauty and the Beast.' The latest interpretation of the classic fairy tale is Disney's second in 26 years.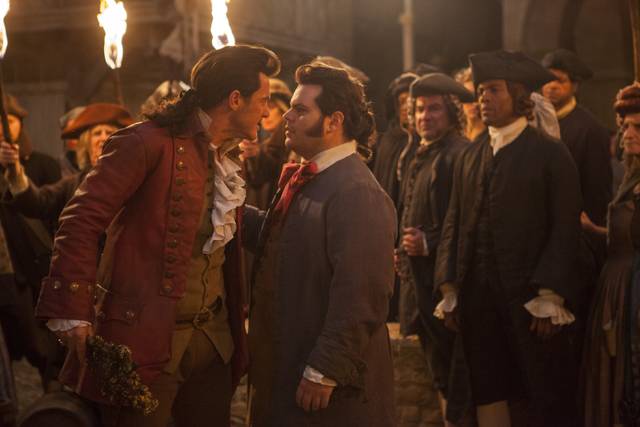 From left: Luke Evans and Josh Gad portray Gaston and LeFou in 'Beauty and the Beast.' Live actors replaced animated counterparts from Disney's 1991 award-winning film.
Mike Sullivan is a movie reviewer for Weekender. Movie reviews appear weekly in Weekender.
'Beauty and the Beast'
Starring: Emma Watson, Josh Gad, Dan Stevens, Stanley Tucci,
Director: Bill Condon
Rated: PG
Weekender Rating: W
Length: 130 minutes