Movie Review: 'The LEGO Batman Movie' has lots of high points
Every time a new actor is cast in the role of Batman, the nerds of the world march toward their computers and, with a sense of entitled rage, abuse the caps lock button on their keyboards until their brittle, pudgy fingers are reduced to Cheetos-stained nubs.
As empty gestures go, complaining about the casting choices in the latest Batman movie is probably the emptiest. Not just because the people who are complaining the loudest are almost inevitably the same people who see the movie three times when it's still in theatres, but because it doesn't matter who's cast as Batman because Batman is always played the same way: an uncharismatic, brooding cipher.
As a character Batman lacks a personality. He's a child's idea of a bad-ass: a clenched fist in an opera-cape. If Batman was real he'd be that self-pitying ass at the party who sits by himself waiting to hear reports of car crashes on a police scanner app. If not for the likes of The Joker, Bane and the rest of his supporting cast, Batman, as a concept, would be collecting dust alongside The Shadow, The Green Hornet and all of the rest of the uninteresting pulp heroes his "creator" Bob Kane shamelessly ripped off. As a straightforward superhero movie, Batman is something of a creative dead-end but as a comedy, the clichés and unspoken silliness of the franchise allow a savvy filmmaker additional avenues to explore.
As in 2014's "The LEGO Movie," "The LEGO Batman Movie" is a shameless act of corporate synergy, but it's an enjoyably shameless act of corporate synergy. Much in the same way "The LEGO Movie" was mocking action movies – specifically those with the hoary 'chosen one' trope – "The LEGO Batman Movie" is, not surprisingly, skewering superhero movies.
Wasting no time, the film opens with the voice of Batman (Will Arnett) glumly pointing out the film's various clichés as he speaks over the production company logos and dour, self-important soundtrack. This film's Batman hasn't just loosened up he's managed to develop a personality. Somewhere in between Danny McBride's Kenny Powers and Daffy Duck in terms of characterization, LEGO's Batman is an arrogant prick prone to temper tantrums and isn't above putting his unwanted, adopted son (Michael Cera as a naïfish Robin) in constant danger.
Additionally, LEGO Batman's Justice League of America treat him like an unpopular co-worker and his live-in butler, Alfred (Ralph Fiennes), sees him as a spoiled, out of control pre-teen (at one point, a bemused Alfred is seen reading from a Dr. Spock-like book on childcare). Granted, LEGO Batman is probably the goofiest version of Batman to date, but he's also the only filmic Batman with some degree of depth.
Storywise "The LEGO Batman Movie" is a bit of a mess. It has something to do with the Joker (Zach Galifianakis) attempting to take over Gotham City or whatever. But being that "The LEGO Batman Movie" is basically just a parody movie, the story is almost beside the point. Of course there is almost an endless succession of references to the Batman franchise as a whole (unbelievably, overlooked Batman foes like Egghead and Kiteman make their big screen debuts) and other Warner Bros. properties like Harry Potter and The Gremlins among other things. And that's fine, in a fan service-y way. But the jokes that really connect are the comparatively more subtle ones. Such as the unspoken homoerotic tensions between Batman and the Joker that were present in "The Dark Knight" and most badly written fan-fiction is dragged out in the open in "The LEGO Batman Movie" and turned into something that resembles a domestic squabble. In this film Batman and the Joker are presented as an unhappily married couple who appear to be just days away from couples counseling and it never stops being funny.
Unfortunately, not everything works in "The LEGO Batman Movie", at a manic 104 minutes, the film starts losing steam around the 75-minute mark. Also, because it's a kids film, "The LEGO Batman Movie" is saddled with a mawkish "family is important" message as well as a supporting female cast that is yet again forced into the roles of sour, joyless scolds. Lacking the surprising anarchic energy of "The LEGO Movie," "The LEGO Batman Movie" is still an enjoyably solid follow-up and marks the only time audiences will ever get to hear Kate Micucci of "Garfunkel & Oates" semi-fame play the amorphous, blob-like Clayface.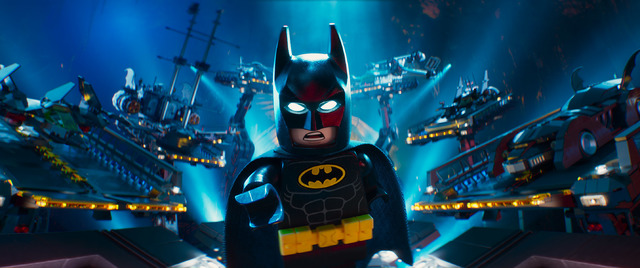 This image shows Batman, voiced by Will Arnett, in a scene from 'The LEGO Batman Movie.'
Mike Sullivan is a movie reviewer for Weekender. Movie reviews appear weekly in Weekender.
'The LEGO Batman Movie'
Starring: Will Arnet, Zach Galifianakis, Michael Cera adn Ralph Fiennes
Director: Chris McKay
Rated: PG
Weekender Rating: WWW 1/2
Length: 106 minutes