Movie Review: 'Rings' a feeble attempt at scary sequel
Last summer theaters across Japan were graced with one of the most promising franchise crossovers in recent film history. Entitled "Sadako v Kayako," the horror movie pitted the hitch-stepped girl in the well from the original version of "The Ring" against the ghostly mother-and-son duo from "The Grudge."
Boasting such instantly iconic imagery as Kayako crushing Sadako's VHS tape beneath her pale, otherworldly foot as well as the sight of Sadako attempting to drown Kayako in her well, "Sadako v Kayako" seemed promising all of the dumb, fun thrills that "Freddy vs. Jason" refused to deliver. But due to America's indifference to either franchise, "Sadako v Kayako" made its North American premiere via a streaming service. And not even the good kind of streaming. Whether good or bad, "Sadako v Kayako" deserved a wider western audience, certainly more than "Rings," its bland American counterpart did. Especially considering "Rings" is an indifferent shrug of a movie that barely attempts to update or otherwise rethink its lo-fi premise.
On the plus side, "Rings" opens well. Taking place on a commercial jet as it's flying through turbulence, the film reveals one of the passengers has watched the infamous cursed VHS tape seven days before getting on the plane and never bothered to make a copy, dooming himself as well as his fellow passengers. Although over the top, the sequence carries a heightened kinetic energy the rest of the film lacks. Seeing the ghostly Samara appear on every passenger's seat-back monitor as she spews every cliché from the J-Horror playbook within the cramped confines of an airplane is surprising fun.
She's now attacking larger groups at once. The stakes are raised. "Rings" is implying it's going to be a bigger, crazier film than Gore Verbinski's "Ring." Unfortunately, "Rings" never builds off of this moment.
From there the film takes several steps back as a sour Johnny Galecki plays a man who, inexplicably, knows the personal history of every item he encounters at a flea market. How exactly he knows why a VCR would be owned by the dead guy on the crashed plane or why he could possibly care isn't explained. Nonetheless, Galecki buys the outmoded appliance and, wouldn't you know it, the VCR contains Samara's little experimental movie. Yet, in a twist "Rings" doesn't bother to develop, Galecki turns out to be a professor passing the cursed videotape onto his students. Additionally, Matilda Anna Ingrid Lutz plays a teenager whose boyfriend (Alex Roe) went away to college and suspects foul play when he stops returning her texts. Unwilling to accept that he's ghosting her, Lutz visits Roe only to find out he was one of Galecki's unknowing pupils. This, of course, leads to Lutz watching Samara's film and ultimately solving a creepy mystery in some secluded hovel in the Pacific Northwest.
Do you like footage of an exhausted Vincent D'Onofrio clunking people on the head with a cane? How about endless sequences where bland people stare intently at tombstones? Good news. You will love every Pacific Northwest moment in "Rings."
The idea of a spooky VHS tape doesn't really carry much weight nowadays. The amount of legwork a person would have to do just to get killed is astounding. Forget about finding a working VCR, where are you going to find a working tube TV. Besides, it's likely a cursed video tape would only manage to get lost in some kind of ironic art installation project, perhaps something like that house made out of "Jerry Maguire" tapes or whatever. Considering that "Rings" isn't really connected to the previous films it's strange that director F. Javier Gutierraz didn't completely reboot the concept and just made Samara's short film into a video file that can only be seen on the Dark Web.
Even though Gutierraz feints towards new ideas, he's all too willing to lazily go through the beats of the original film. If you need to see a new J-Horror movie right now, track down whatever, twelfth-tier outfit "Sadako v Kayako" is streaming on and leave "Rings" to rot with all of the other cursed, unwanted videotapes at your local thrift store.
This image shows Bonnie Morgan as Samara in a scene from the film, 'Rings.'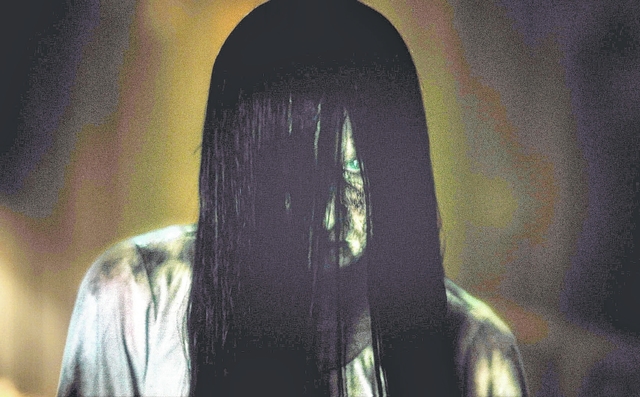 This image shows Bonnie Morgan as Samara in a scene from the film, 'Rings.'
Mike Sullivan is a movie reviewer for Weekender. Movie reviews appear weekly in Weekender.
'Rings'
Starring: Johnny Galecki, Alex Roe, Matilda Anna Ingrid Lutz, Aimee Teegarden, Bonnie Morgan
Director: F. Javier Gutiérrez
Rated: PG13
Weekender Rating: W
Length: 117 minutes