Game On: "Firewatch" explores adult storylines with great graphics and dialogue
Shown off as a trailer at last year's E3, "Firewatch" is a mysterious adventure game set in the wilderness of Wyoming. In recent years there has been a new renaissance in adventure games as a way to tell deep narrative driven stories and "Firewatch" is one of the most interesting in recent memory.
In "Firewatch" you play as a man named Henry, who has taken a job as a fire lookout which is similar to a forest ranger, he took this job to get away from his home life where things are less than ideal. The wilderness is very lonely and the only emotional contact you have is in the form of a little radio and a voice on the other end. The person on the radio is your boss, a woman named Delilah and she is always available for a chat. One night you are hanging out in your tower and you see something unusual in the forest and you go to investigate which forces you to explore the wild and learn the truth about what's going on in the woods and about yourself.
The graphics are beautiful. They aren't photo realistic but they do a great job of showing off the natural surroundings. The characters look hand drawn which is a great contrast to the environment. The voiceovers are the main story telling element and they are very good. The musical score adds to the overall tone. Over the course of a few weeks, talking on the radio you develop an intimate relationship with Delilah and this romance is tested by a bunch of bizarre events that lead to a sense of tension and a bit of paranoia. Even though everything seems simple and mundane there is something interesting going on here that I don't want to spoil. There isn't much action in "Firewatch" it's all about the story, there is only a bit of intro text and the rest you experience throughout the game. As you experience things in the wild it sparks conversation on the radio which helps you to learn story elements. All of the conversations were realistic and the dialogue is well written, even if some of it doesn't seem like it fits into the story it helps to build the feel of the world.
A recent trend in adventure games is the game story evolving based on your decision and dialogue choices and "Firewatch" does change in some interesting ways leaving to a few alternate conclusions, so it's worth a few play throughs to see how the story can play out in different ways.
Overall I enjoyed "Firewatch," some will argue that it's not a game because it doesn't have typical video game tropes like high scores and shooting but it does tell a great story in an innovative way. "Firewatch" is an adult game that tries to face some really adult issues like failing relationships and loneliness, but in a very real way thanks to the excellent dialogue and writing.
"Firewatch" is one of the best story driven adventure games to come out in quite some time and it's definitely worth a look.
"Firewatch" beautiful graphics and a realistic storyline.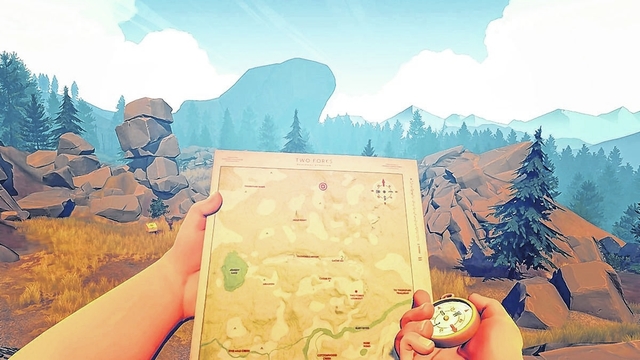 "Firewatch" follows the adventures of Henry, a recently separated guy who accepted a job as a fire lookout.
"Firewatch" is an adult game that touches on adult issues such as failed relationships and loneliness.
Robbie Vanderveken is the digital operations specialist at The Times Leader. E-mail him at rvanderveken@timesleader.com.
System: PS4, PC, Mac ESRB
Rating: M for Mature: Suggestive themes, nudity, drug and alcohol reference, strong language
Developer: Campo Santo