Game On: Christopher Meloni gives life to Call of Duty character in Black Ops III
Released every year, the "Call of Duty" series is the epitome of the big-budget, blockbuster version of a video game. Similar to the summer blockbusters in movies you can expect lots of action, gun fights, car chases and plenty of explosions. Starting a few years ago "Call of Duty" moved from historical battles and now takes place in the future and shows the future of warfare. Similar to last year's "Call of Duty: Advanced Warfare" the future setting continues and goes even further with "Call of Duty: Black Ops III" making it the most technologically advanced and ambitious "COD" game yet.
"Call of Duty: Black Ops III" set many years in the future features three main types of gameplay. There is a story campaign, zombies, and the online multiplayer. The setting is a futuristic Egypt and Singapore and it has a star studded voice cast featuring Christopher Meloni from "Law and Order," playing a soldier named John Taylor. The story campaign is full of fun twists and espionage, and the levels are more open than previous games allowing you to choose your path through the level.
"Call of Duty: Black Ops III" features some new futuristic tech like the DNI (Direct Neural Interface) which allows you to see your enemies anywhere even hiding behind cover, similar to Batman's "detective mode" in the Arkham games. The DNI is very handy because it shows enemies and potential pitfalls and even the trajectory of weapons like grenades and bombs. The most useful thing the DNI can do is remotely hack turrets and other enemy A.I.s.
Just like last year's "Advanced Warfare" there is also some tech that increases your movement allowing you to jump really high and run along walls adding a ton of mobility to the gameplay. Besides these gadgets there are several new weapons to try but if you don't like what you have you can switch mid level at mobile armory units. The campaign is full of different soldiers and giant robots. The best way to tackle this game is with the four player cooperative play.
The Campaign is great but the "COD" games are known for the other game modes like Zombies and Online Multiplayer. The Zombie mode is a lot of fun, you and three of your friends have to survive against waves of zombies with limited resources. The only way to survive is to explore and find new guns. You will need them to fend off all the zombies, giant bugs, and several other terrors. Zombie mode is the most arcade-like part of the game, it's kinda silly and fun but it can be brutally hard. It is possible to play alone but it is much more fun with a group of friends.
The mode everyone waits for every year is the online multiplayer. The "Call of Duty" Multiplayer is so well known because of its quality. "COD" has the best leveling system, cool guns, and some of the tightest and best feeling shooting in any game. All of the core game modes are back, such as Team Deathmatch and Confirmed Kill. There is a new game mode called Safeguard where your team escorts a robot character to a safe location while being attacked. Playing the multiplayer is very satisfying because you earn experience which lets you level up and earn new guns and abilities. You can earn several really cool special characters and customizations options to make it more personal. If you want more customization options you can use currency to buy things on the black market which incentives you to play and earn more money.
I enjoyed my time with "Call of Duty: Black Ops III." I am not usually big on shooter games but the campaign mode is bombastic and very entertaining and the online multiplayer mode is good for many hours of fun. The new movement speed and wall runs really do change up the feel of the gameplay making it more frantic and fast paced. "Call of Duty: Black Ops III" is one of the best multiplayer experiences you will have this year so grab some friends and start shooting.
"Call of Duty: Black Ops III" continues the successful series of gaming.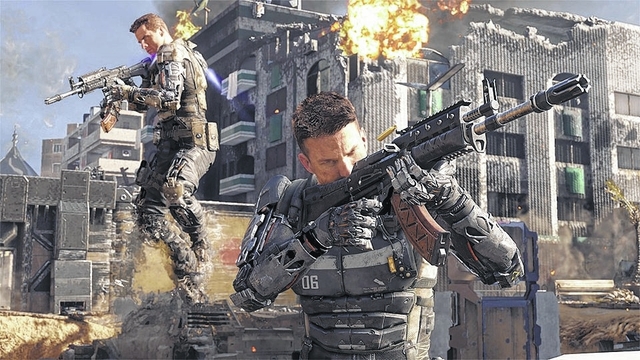 "Call of Duty: Black Ops III" continues the successful series of gaming.
Robbie Vanderveken is the digital operations specialist at The Times Leader. E-mail him at rvanderveken@timesleader.com.
System: PS3, PS4, Xbox 360, Xbox One, PC
Rated: M for Mature: Blood and Gore, Drug Reference, Intense Violence, Strong Language
Publisher: Activision Developer: Treyarch