Game On: Yarny is one video game character you don't want to miss in "Unravel"
From "Kirby's Epic Yarn," "Yoshi's Woolly World," and "LittlebigPlanet," the last few years have been big for games that look like they are made out of products from a craft store. Announced and shown off at last year's E3, "Unravel" is a cute downloadable game that introduces a cute and likeable little yarn man named Yarny.
Yarny is made out of a single thread of red yarn and he is meant to represent the thread that connects together the hearts of your loved ones. The "Unravel" story is touching and plays out in little scenes that activate as you travel along your path. "Unravel," at its core, is a platforming game similar to "LittleBigPlanet," but instead of hand drawn or cloth levels, the world is incredibly realistic to actual life. The world looks as if you are walking across a photograph, but because Yarny is small you have to figure out how to make your way by manipulating things like tree branches, fish, and all sorts of other things.
As you travel through the world, Yarny leaves a piece of himself behind, because he is constantly unraveling along the way. You have to use your string as you progress to swing along gaps, build bridges, rafts and solve puzzles. If you go too long without picking up yarn balls all of his string is depleted and you die. Once in a while, one of the puzzles gets a bit tough but the checkpoint system makes it easy to restart where you left off which limits a gamer's frustration.
None of the platforming sections or puzzles are particularly difficult. Many of them are very similar but it is worth it to continue to see the heartwarming story of love and loss of an elderly woman's life. Each of the levels are pictures from the woman's photo albums come to life, and when you reach sections you see bits and pieces of her memories also come to life. Even though the puzzles are very similar, I loved seeing all the different locations and environments you encounter.
"Unravel" is quite short. The game really only lasts about six hours or so, however, the game is very touching and cute and the platforming is fun and only slightly repetitive. As a little downloadable title "Unravel" is a great family-friendly game that's about the journey of a cute little yarn guy through a beautiful realistic world.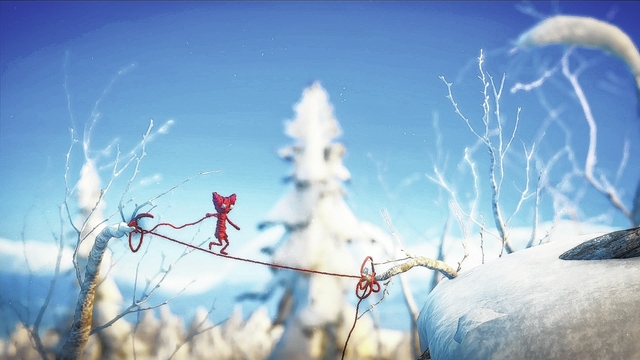 "Unravel" follows Yarny, a little yarn man, on his journey through a realistic looking world.
Yarney must use his red string to help him overcome obstacles, but he must not run out of yarn completely or he'll die.
Along the way, Yarny, the main character in "Unravel" must pick up yarn balls as to not deplete his energy. This a family-friendly game fun for everyone.
Robbie Vanderveken is the digital operations specialist at The Times Leader. E-mail him at rvanderveken@timesleader.com.
System: PS4, Xbox One, PC ESRB
Rating: E for Everyone: Mild Fantasy Violence
Developer: ColdWood Interactive