Game On: 'Fast Racing Neo' blends futuristic cars and tracks into a eye-catching game for Wii U
There are many racing games that come out each year, most of them feature traditional cars and normal tracks but there is a rare genre of sci-fi racing games like the classic "F-Zero." "Fast Racing Neo" is one of the most interesting racing games I have played on the Wii U. It's been many years since the release of the last F-Zero game and "Fast Racing Neo" does pick up some of the slack but it's not quite the same.
One of the highlights of the sci-fi racing genre,the cars are much faster than real life vehicles, and the sense of speed "Fast Racing Neo" lives up to that tradition and the tracks are varied and fun. "Fast Racing Neo" is, at its heart, a pure racing game and the controls are tight and accurate allowing you to handle the intense speeds. Each one of the cars handles and feels distinct even though they look very similar. Even if they look the same they each have their own stats which can change how the car handles. Some cars are fast and light, and others are a bit heavier but have more stable handling. You need to use the right car for the track you are on and to suit your play style. One thing that can make the racing a bit frustrating is bumping into other cars can really send you into a spin and if you wreck bad enough your car will be destroyed, there is a huge penalty for mistakes, making it really hard to catch up.
Most of the tracks in "Fast Racing Neo" are pretty memorable and nice to look at. They all look great and very futuristic. There are many different environmental themes so they don't just look like a future city. There is a great looking desert track, but graphically the most interesting is Storm Coast which is a perpetual rain storm, the weather effects are really cool to look at.
Besides the normal racing there isn't a ton of other game types. There is online multiplayer racing which functioned great for me, I didn't get kicked out of any races and there was no lag that I could find. There are a couple of game modes to mix things up, there are time trials and ranked modes that let you progress only if you get first place. Other than these couple of modes the only thing to do is standard racing.
Overall I liked "Fast Racing Neo," it's a really fast paced sci-fi racer that is exhilarating to play but it has no bells nor whistles. The base racing is great, the controls are precise and the sense of speed really gets your heart pumping. There isn't a ton of online game modes or extra activities. If you are a fan of games like "F-Zero" you will enjoy "Fast Racing Neo" but there aren't a lot of things that will keep you playing this game for long. Nintendo hasn't announced a new "F-Zero" game so "Fast Racing Neo" can satisfy your sci-fi need for speed at least for a little while.
"Fast Racing Neo" is a sci-fi racing game that packs speed and great graphics.
"Fast Racing Neo" is a futuristic racing game for the Wii U.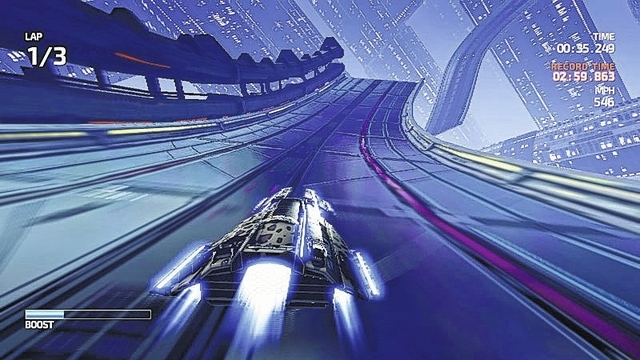 "Fast Racing Neo" is a sci-fi, futuristic racing game for the Wii U.
Robbie Vanderveken is the digital operations specialist at The Times Leader. E-mail him at rvanderveken@timesleader.com.
System: Wii U
ESRB Rating: E for Everyone