Game On: "Star Wars: Battlefront" gameplay is just like being a part of the movie
This year is a great one for "Star Wars" fans. Besides the new movie, the other big release is the reboot of a classic Star Wars game from a few console-generations ago, "Star Wars: Battlefront."
"Star Wars: Battlefront" was made by DICE the same company that released the Battlefield games so their pedigree for shooters is great.
"Star Wars: Battlefront" is a good looking "Star Wars" game and one of the best looking games of this console generation. The developer used actual props and models from the original trilogy for the game so everything you see and hear is a completely accurate representation. The sights and sounds are right from the movie, and it is the closest thing to watching a movie I have seen in a game, but you control all the action. The controls are great and the shooting is silky smooth. I felt in complete control so if I died it never felt unfair.
As you play you can unlock new abilities and new weapons which can change how you play. There are many different cosmetic things you can change to customize your character but none of the new weapons felt that different from each other so just choose the one you like and stick with it.
The place where the control drastically changes is when you get a power-up that lets you fly in one of the many vehicles. As you play you will see tokens on the screen, and if you collect them first, you are warped inside a vehicle where you can participate in dog fights or bombing runs. It can be jarring to switch modes so quickly but it's not hard to get the hang of. Another type of token you can find are the "heroes," which allow you to play as characters like Luke Skywalker, Bobba Fet, Darth Vader and more. Each of the heroes has their own special abilities and it is fun to try each of them out, and because it's not tied to a kill streak everyone will have a chance to experience them once in a while.
"Star Wars: Battlefront," at its core, is a multiplayer game. There is no story campaign and it feels like something is missing because of a lack of content. There are some things you can do alone like training missions and you can play against A.I bots if you aren't feeling social.
"Star Wars: Battlefront" is definitely better with some friends or online. There are few really good game modes. There are only a couple of planets but each game mode shows a different part of those worlds. There is the Supremacy mode, which is a huge battle with up to 40 players to take control of a territory. There is a Blast mode which is a standard deathmatch, a Heroes and Villains mode where you can always play as a movie character, and there is even a Fighter Squadron mode where you can use just the vehicles. If you are familiar with the ice planet "Hoth" you will recognize the Walker Assault mode where it's the Rebels vs. the Empire, this is the most hectic of modes because AT-AT Walkers are very imposing.
Overall I liked "Star Wars: Battlefront." It is one of the best Star Wars games ever released especially when it comes to graphics. It looks, feels and sounds exactly like one of the movies. Yes, it's disappointing that it doesn't have a single player campaign but there are a ton of game modes that are a lot of fun to play. There is a ton of content coming up if you get a season pass. They haven't detailed all of it, but there are going to be new maps, new heroes, customization options and much more. If you are fan of Star Wars this is a must play, but if you don't care about the series there are much better options out there when it comes to first person shooter, but they might not look as good.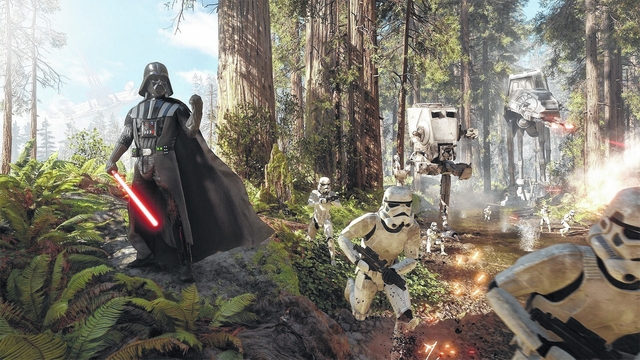 "Star Wars: Battlefront" was created by DICE and is modeled after actual props of the Star Wars movies.
Robbie Vanderveken is the digital operations specialist at The Times Leader. E-mail him at rvanderveken@timesleader.com.
System: PS4, Xbox One, PC
T for Teen: Violence
Publisher: Electronic Arts Developer: DICE
Coming Soon: Resident Evil Origins Collection, Jan. 19; Mario & Luigi: Paper Jam, Jan. 22