Game On: "LEGO Dimensions" is a great game for any LEGO lover
One of the best toys ever made are LEGO. The popularity is unmatched because you can use your imagination to build anything you can dream. Over the years there have been dozens of series that have received the LEGO treatment with varying success. Thanks to the "LEGO Movie" we learned what it would be like if multiple "LEGO" worlds combined and that's exactly what "LEGO Dimensions" is about.
"LEGO Dimensions" is the newest game in the Toys-to-Life craze that has been very popular in video games since "Skylanders" was a huge hit. Toys-to-Life is where a real life toy can be imported into and used within a game. I can't imagine a better series to take advantage of this than LEGO. The bricks have RFID chips in them allowing you to build things and import them for use in the game. When you open the box for "LEGO Dimensions" there are about 250 bricks in the box and you need to assemble the platform used to import things into the game. Most Toys-to-Life games are just figures you put on a shelf but the LEGO pieces are the first that are playable.
The story of "LEGO Dimensions" begins with a portal that opens up in all the LEGO Lands and sucks up characters from all the different worlds like "Lord of the Rings," "Scooby Doo," "Ghostbusters," "Doctor Who," "Batman," and many more and put them in the same world. They must work together to find a way home. In order to make things right Batman, Gandolf and Wyldstyle must team up and travel through all the worlds in order to save the universe.
If you are fan of the Traveler's Tales "LEGO" games you will love "LEGO Dimensions" it has all the things you love from these games with the addition of a ton of different worlds and series to play. All of the graphics are bright and colorful and they all share the distinct "LEGO" style and humor that have made these series such a success over the years. Each play set looks like the license world it is from but rebuilt as LEGO. There are many worlds to explore and puzzles to solve. There are many points in the game where you have to stop and build something with the real LEGO blocks and use them in the game. You don't have to build stuff to complete the game but it does make it more enjoyable.
If you are worried you will have to buy a ton of stuff to play this game, don't be concerned. You can complete the game with the three characters that come in the play set. If you want more stories and play sets then purchase the ones you want. Unlike the older LEGO games you can't unlock everything just by playing you actually have to buy some play sets to unlock some content. If you want to see absolutely everything you will have to buy a few sets. I found the most interesting one to be the" Doctor Who" set which is a time traveling adventure and if you die you respawn as one of the other Doctors which is a nice touch. In almost every playset they got the real voice actors and music which really bring each world to life.
Overall I love "LEGO Dimensions" as a LEGO fan there is much to love. The graphics are charming the dialogue is hilarious and it is great seeing all the different pop culture icons on the same screen together even if they are in LEGO form. This is the first entry in the "LEGO Dimensions" series and I can't wait to see what they do with it in the future.
"LEGO Dimensions" is a great game for any LEGO lover.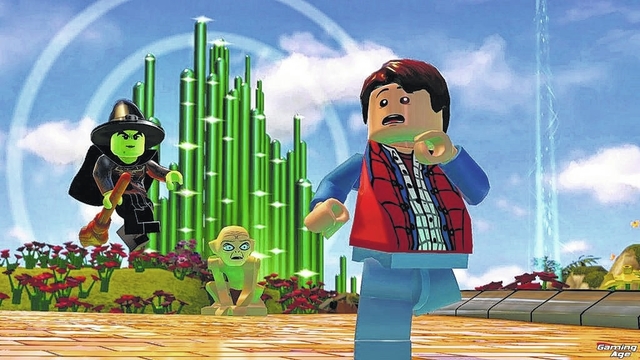 "LEGO Dimensions" is a great game for any LEGO lover.
"LEGO Dimensions" is a great game for any LEGO lover.
Robbie Vanderveken is the digital operations specialist at The Times Leader. E-mail him at rvanderveken@timesleader.com.
System: PS3, PS4, Xbox 360, Xbox One, Wii U
Rated: E10+ for Everyone 10 and older: Cartoon Violence, Crude Humor
Publisher: Warner Bros.
Interactive Developer: TT Games