Quick Chord: Westpoint put their own hazy spin on punk and hardcore with self-titled LP
Westpoint's new self-titled album is a hazy love letter to the genres that defined its members, written in a handwriting distinctly its own. Drummer Jonah Kramer said the new effort isn't like the first record — it's not as easy to lump in with genre contemporaries. It's different.
"We just tried to really get out of our comfort zone and just do weird stuff and try new things," Kramer said. "Whether it worked or not is up to the listener, but we're really proud of it. We think it came out great. We're hoping people dig it, but overall we just tried to go for a pretty much new sound. I don't think it sounds anything like our old record."
The songs are quilts made in compartments. The band — Kramer, guitarist Pat McHale, bassist Shane Webb and guitarist/vocalist Dana Takacs — recorded with Arthur Rizk (Power Trip, War Hungry) over the course of three months in a series of basements and closets. Kramer said they're eager to play new material for crowds on their short winter tour with fellow Kingston band Title Fight, a group Kramer thanks for his musical upbringing.
"Title Fight's definitely the reason that I even found out about this kind of music and ever got into the scene, so it's obviously exciting to play these shows and it's going be the biggest shows we've ever played," Kramer said. "It should be fun."
Takacs grew up watching Title Fight, Cold World, War hungry and more play local venues — venues he wishes he was able to play before they shuttered.
"There are a bunch of venues we couldn't play because they shut down," Takacs said. "Redwood Art Space was one I wish we could have played. Cafe Metro was another one but it closed down in 2009."
The Wilkes-Barre music scene didn't just give Takacs ways to see his favorite bands, it also gave him the connections with which to form his own. McHale, Webb, Takacs and Kramer became acquainted at shows and bonded over a mutual love of hardcore and indie punk like The Pixies. Fast forward to 2016 where the quartet known as Westpoint made themselves an album that does both. Takacs said he wants to make people "scream and jump on top of each other," but his other sentiment shows through just as well during the self-titled's 10 tracks.
"It's OK to be weird," Takacs said. "It's actually cool to be weird."
To order Westpoint's "Westpoint" or its debut release "Dive," visit TripleBRecords.LimitedRun.com. To purchase from the band directly (and also see upcoming tour dates), visit Facebook.com/WestpointMusic.
Westpoint members split their time between Kingston and Philadelphia, playing shows in each area when given the chance. In the early days of the band, Westpoint held their own shows in garages if they weren't booked and wanted to play.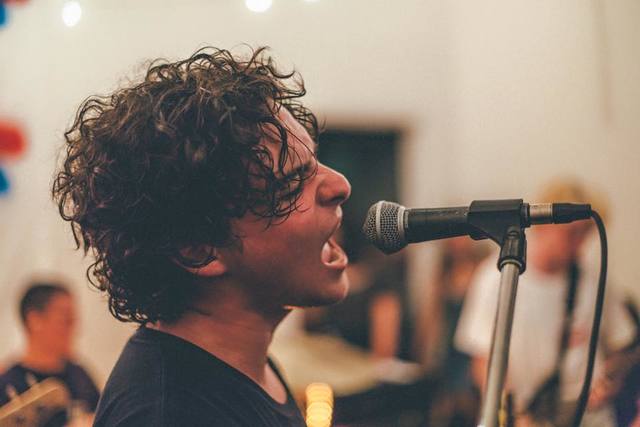 Westpoint guitarist/vocalist Dana Takacs said he just wants 'to make people scream and jump on top of each other.'
Westpoint's winter tour with Title Fight doesn't bring them to Wilkes-Barre, but the band will play First Unitarian Church in Phildelphia Jan. 6.
Reach Gene Axton at 570-991-6121 or on Twitter @TLArts