Movie Review: 'Split' brings Shyamalan out of film-making funk
Don't call it a comeback.
M. Night Shyamalan has been making terrible movies for years. Expectations for a Shyamalan movie are so low that the director is applauded simply for making a film that isn't as navel-gazing and pretentious as "Lady in the Water" or as incoherent and dull as "The Last Airbender."
Although hailed as a return to form upon its release almost two years ago, "The Visit" wasn't a startling new chapter in the career of a sadly maligned director as much as it was a middling found-footage horror film hampered by a pair of insufferable lead performances. But, you know, there weren't any scenes where characters tried to outrun the wind, so clearly, Shyamalan has grown as an artist?
I guess?
No surprise, "Split" is similarly terrible but unlike Shyamalan's other projects, his most recent movie is more fun-bad than horrible-bad. Never as campy or as kitschy as its crazed trailers may have implied, "Split" still manages to be an oddly entertaining B-movie.
"Split" essentially revolves around dissociative identity disorder, a controversial mental illness, that for many mental health professionals, isn't recognized as a legitimate disorder. Whether DID is real is hard to say, but as depicted in "Split," DID looks like a cross between a child's idea of what schizophrenia is and any episode of "The Flintstones" where Fred thinks he's a race-car driver because a bowling ball fell on his head. In essence, "Split" is destroying whatever legitimacy DID has.
James McAvoy plays Kevin Wendell Crumb a disturbed young man with 23 separate identities. Under the guise of Dennis – an OCD sufferer who likes to watch teenage girls dance in their bras – Kevin has kidnapped Haley Lu Richardson, Jessica Sula and "The Witch's" Anya Taylor-Joy in the middle of a parking lot in broad daylight without anyone noticing.
At this point, I should point out that Kevin's personalities are hammy overacting cartoons. There's flamboyant fashion designer Barry who speaks in that unplaceable 'American from Americatown' accent favored by the likes of Liam Neeson, overbearing Patricia who constantly dispenses animal fun facts and lisping 9-year-old Hedwig who ends every sentence with "et cetera" and shows off his palsied dance moves in an inexplicably long sequence.
On paper, these characters might possibly read as chilling or creepy but on film it plays like somebody tried to make "The Klumps" scary by digitally removing the farts from the soundtrack. Nevertheless, this goofball collection of rejected SNL characters are planning on sacrificing Richardson, Sula and Taylor-Joy to a developing 24th personality dubbed 'The Beast.' Is 'The Beast' supernatural or is it something more mundane? Shyamalan isn't really clear on what it is, but he isn't above showing a shirtless McAvoy running through the streets of Philadelphia grunting wildly and looking like the film crew from "Cops" should be trailing closely behind. Oh, and as in every Shyamalan movie, there is a twist and this twist implies that Shyamalan is a big fan of the Marvel Studios filmmaking model.
Get ready for the extended film universe of M. Night Shyamalan, everybody.
On the plus side, in spite of its nearly two-hour running time, "The Split" moves quickly. Even better, the film looks good thanks to Mike Gioulakis's spare, French New Wave-inspired cinematography. But apart from all of that, "Split" is filled with too many unnecessary characters. Richardson and Sula's roles are underwritten cyphers while Betty Buckley, as Kevin's oblivious psychiatrist could be edited out of the movie without effecting the storyline. At one point, three minutes are spent on Buckley visiting a neighbor who is really upset with the way contestants on "The Wheel of Fortune" are playing the game. The scene ends when the neighbor gets excited over a pair of shower shoes. The purpose of this scene is bewildering, its presence odd. However, being bewildering and odd is exactly what makes "Split" worth sitting through. Filled with uniquely stupid touches (apparently some of Kevin's identities do impressions of the other identities), "Split" just might be the best movie Shyamalan has ever made. But being the best movie in a filmography that includes "Lady in the Water" and "The Last Airbender" is like finding out that strychnine is the tastiest of all the poisons.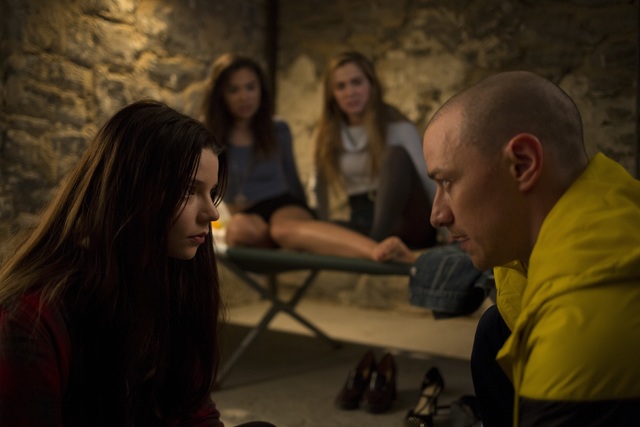 This image released by Universal Pictures shows Anya Taylor-Joy, left, and James McAvoy, right, in a scene from, 'Split.'
Mike Sullivan is a movie reviewer for Weekender. Movie reviews appear weekly in Weekender.
'Split'
Starring: James McAvoy, Betty Buckley
Director: M. Night Shyamalan
Rated: PG13
Weekender Rating: WWV
Length: 157 minutes