Last weekend for '9 to 5' at Theatre at the Grove in Nuangola coming up
NUANGOLA — Dan Bower has been hearing boos instead of applause lately — and the actor is loving it, because it shows how well he's been portraying the hateful boss in the musical "9 to 5."
"Franklin Hart's character is so deeply misogynistic," said Bower, of West Wyoming, who continues his role as Hart through Sept. 25 at Theatre at the Grove. "He's outdated, he's sexist, he's rude, and you never get that moment of redemption."
Ah, but audiences do get to witness some moments of comeuppance, as when three women who work for him take revenge.
"I get pretty abused, thrown into a car trunk, tied up with telephone cords," Bower said. "Eventually suspended in the air. It's a great end to the first act."
He'll experience an extra dose of comeuppance in the second act, as audience members who saw the movie starring Dolly Parton, Lily Tomlin, Jane Fonda and Dabney Coleman will remember.
"The women are knocking it out of the park," Bower said, referring to Amanda Reese, who plays Violet; Ashlee Danko as Doralee and Ericka Law Mason, who plays Judy.
While it's not easy to relate to Mr. Hart, cast members said, it's easy to relate to Violet, Doralee and Judy — who are able to unite despite their differences.
"The three women, they are a team," Reese said. "They lift each other up, and build off each other's strengths."
Fortunately, Reese said, in real life she's never worked with anyone as unpleasant as the women's ogre-like boss.
"I've been very, very blessed, working with great people," she said, "but there are places where you hear horror stories about bosses taking credit and taking advantage."
The play is set in the late 1970s, said Michael Marone, who is co-directing with Dana Feigenblatt. "I would like to think our society has moved out of that misogynistic era, but there are still issues in the workplace."
In this play, the workplace also has its share of musical numbers, including the title song in which long-suffering office staff recount how they "stumble to the kitchen" and pour themselves "a cup of ambition."
"We open and close with '9 to 5', Mason said, predicting audiences will leave the theater humming.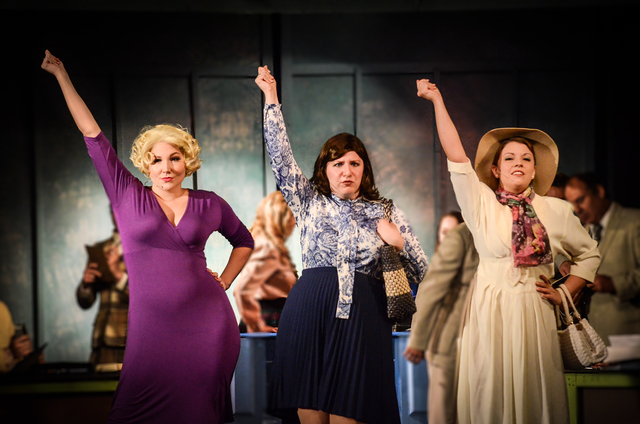 Ashlee Danko as Doralee, Amanda Reese as Violet, Ericka Law Mason as Judy
Ashlee Danko as Doralee tells Dane Bower, as Mr. Hart, a thing or two.
Reach Mary Therese Biebel at 570-991-6109 or on Twitter @BiebelMT