Former member of Scranton band Ralph and 'Beatlemania' Broadway cast returns to NEPA
JIM THORPE — The stages of Broadway may seem like they're in a completely different world than the ones in Northeastern Pennsylvania, but Lenie Colacino became a performing arts astronaut when he left to play Paul McCartney in "Beatlemania." Now he's getting back to where he once belonged with his new gig, a McCartney-inspired project called The Most Excellent Order of Sir Paul.
At 7 p.m. Aug. 20, Colacino and an all-star band featuring Joe Pecorino — the John Lennon to his "Beatlemania" Paul McCartney — will present an on-stage retrospective of Sir Paul's career at Jim Thorpe's Mauch Chunk Opera House. Colacino previously played stages in Northeastern Pennsylvania as a member of the band Ralph from 1973 until he left to make his Broadway debut in 1978.
"Someone told me they were recasting the show (and) I've always had a strong like for Beatles' music and fancied myself as Paul," Colacino said. "I thought, well there's probably a million people at this cattle call but I'll go in and do my audition and I'll be back in time for supper in Scranton. As it turned out they gave me the job right on the spot. That was quite a shock to me, I wasn't prepared for that."
Colacino hit the road with the "Beatlemania" national tour and played McCartney in the stage show until 1984. He performed in The Cast of Beatlemania, an aptly-titled Beatles tribute band featuring cast members from the musical. Three years ago, he decided to broaden his horizons when it came to the music of McCartney, creating an on-stage concert/history lesson that stretches from his fateful meeting with Lennon to his post-Beatles band Wings and recent solo material, including 2013 album "New."
"I tried to make this a little different than a regular tribute-type band in that it's more theatrical. There's a lot of talking, storytelling," Colacino said.
He'll do that by using the theater background of his band mates between songs. Colacino said he built the on-stage dialogue and interactions from reading about Sir Paul's life — he considers himself a scholar of the musician, the show, traveling educational seminar, hits a number of cultural high notes.
"We try to incorporate enough that people are satisfied. They will hear some tunes they know but maybe gain some insight into some of the lesser-known songs that are really beautiful songs in their own right," Colacino said.
Another way the hear the music of McCartney is to see the legend himself, but Colacino is confident that he and his band offer a more intimate way to experience the man's music, away from the large crowds he draws.
"This is more a one-on-one experience. I like to play in smaller venues and tell the story of his life that maybe he doesn't even want to tell," Colacino said. "There's a lot of storytelling going on with the music that ties it together, that's something you probably can't do in a gigantic stadium atmosphere."
Colacino spent five years in Northeastern Pennsylvania eating at Old Forge pizza places and making friends in Scranton and Dunmore. He didn't leave for Broadway to find himself as much as he left to find his inner McCartney, and on Aug. 20 he'll return to a NEPA stage, spirit of Paul included. The Most Excellent Order of Sir Paul's Jim Thorpe engagement is for one hard day's night only — then they're a band on the run, putting rubber souls to the long and winding road, but that's just a day in the life.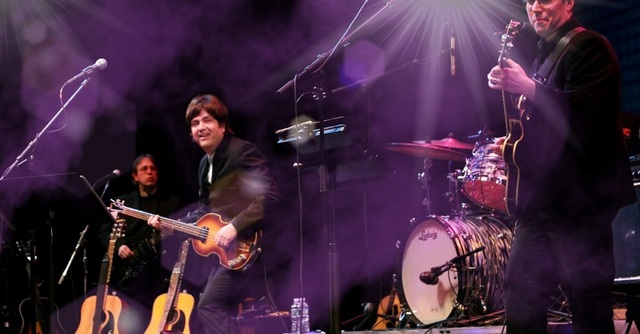 Lenie Colacino chanels his inner-McCartney as frontman of The Most Excellent Order of Sir Paul, a career-spanning retrospective of the musician's career.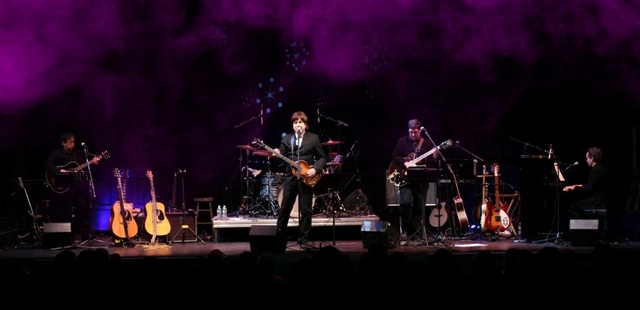 The Most Excellent Order of Sir Paul was born from Beatles tribute The Cast of Beatlemania, which was formed by cast members of the Broadway musical 'Beatlemania.'
Lenie Colacino poses with Paul McCartney's iconic Hofner bass guitar.
Reach Gene Axton at 570-991-6121 or on Twitter @TLArts