On the Books: NEPA home-brewer heads to San Diego to compete in competition
LACEYVILLE — Earlier this summer, Clinton Pickett learned he was the Northeast regional winner of Ballast Point's 20th Anniversary Original Gravity Homebrew Contest. His passion fruit brew wowed judges and was selected as the winner out of 150 entries.
Pickett will travel to San Diego to brew a batch of his fruit beer at the Ballast Point Brewery, where he hopes to be voted Best in Show and earn the chance to have his beer sold nationwide by the distributors and be entered in the Great American Brew Fest Pro-Am Competition.
"I really wanted to create an easy-going summertime, lawn mowing beer that was an actual beer as well as an experience. Some people look for flavor while others enjoy the simple and smooth crushability of a beer. I had to find a way to marry both of these concepts together to make a new experience for the drinker."
So, Pickett developed "the Summer Passion Fruit Beer Experiment."
Pickett's road to victory was a long one. He pursued his passion of being an artisan while living in Miami, São Paulo, Belo Horizonte and New York City.
It wasn't until a friend in Brazil included him in a homemade beer and food pairing party that he started to think about brewing on his own. After leaving Brazil, he landed in New York City where he became a part of the home-brewing community.
Picket loved the passion fruit of Brazil and wanted to incorporate that flavor in his beer. He added papaya to an already fermented Belgian Blonde Ale, which was "amazingly good." Then he added roasted coconut to a porter. In the meantime he brewed the base of what would be used for his passion fruit brew.
"I finally got my beer making process down and it was good, real good," Pickett said.
Pickett eventually made his way home to family's Laceyville farm and his brewing chops took on a life of their own.
"After six months in New York City, I decided to move back to PA to put another idea into motion: an experimental hop yard on the Doolittle Hill Farm."
He ran up against multiple obstacles and almost gave up. He actually stopped brewing for six months and studied the process, reading books and watching tutorials on Youtube.
"My monthly excursions to New York City kept me wanting more," he said.
After breaking down the steps and analyzing how to make them better, he was ready to put the gears in motion one more time.
He began brewing every Wednesday which he called Mash Wednesdays, in an attempt to force himself to master the brewing process and promote home-brewing in the community. Then he saw a poster for the home-brew contest and thought, what the hell.
Across the country, home-brewers had been preparing for months. Twelve days before deadline, Pickett hadn't fully brewed his passion fruit beer because he couldn't find fresh passion fruit anywhere.
Wegmans to the rescue. During a random stop at the Wilkes-Barre location, he found what he needed. He raced against the clock, using unconventional techniques in an attempt to put the finishing touches on his beer.
"Things were so rushed that the end of the day I had no idea if I even had filled out the entry forms correctly." he said.
But, he did and a week later, he learned he was the Northeast regional winner.
"I've never done so many consecutive fist pumps in my life," Pickett said. "I wouldn't trade anything to be anywhere else right now. I still have a lot to learn and achieve but this experience made me realize that I love brewing beer and I am finally on the right path to becoming an awesome brewer. If I can already make something that has caught the attention of a place like Ballast Point, I can only imagine what will be possible months from now after this experience."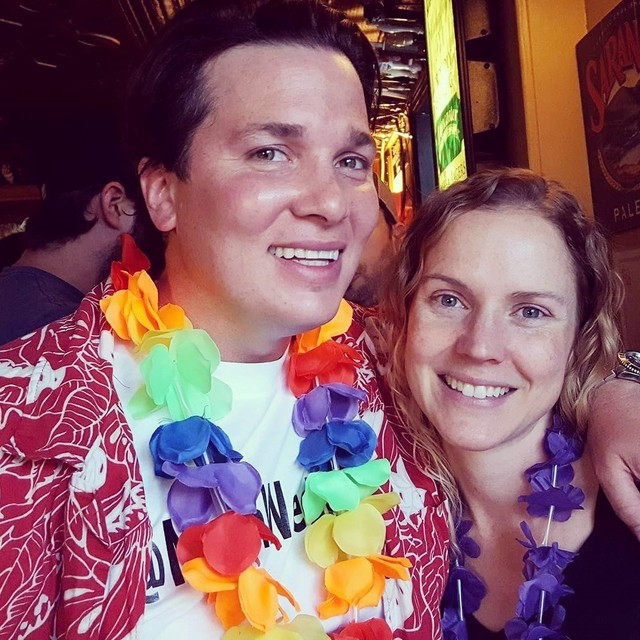 Clinton Pickett with Julia Cain, director of research and development for Ballast Point Brewery.
Clinton Pickett used fresh passion fruit in his winning home-brewed fruit beer.
A selection of home-brewed fruit beer, created by Clinton Pickett. Pickett will compete in San Diego, California, for a chance to have his home-brew distributed by Ballast Point Brewery.
Home-brewer Clinton Pickett has been experimenting with different variations of fruit-flavored beer.
Clinton Pickett received notification by email that he was the Northeast regional winner of the Ballast Point's 20th Anniversary Original Gravity Homebrew Contest.
Dorothy Sasso is a former Soap Opera Digest writer and a private school teacher. She is busy reading books and raising her two daughters.
Follow Clinton Pickett on his upcoming adventures in brewing through social media.
Facebook — www.facebook.com/clinton.pickett
Instagram — Clintorino
Twitter — @MashWednesdays