Free Shickshinny festival Yardstock expands to three days, starts July 8
SHICKSHINNY — Chris Castillo makes shows happen. The 24-year-old started booking in 2009 at Phillip's Emporium in Bloomsburg, but when he was no longer able to use the venue, Castillo built a stage inside the garage at his Shickshinny home. After converting his father's old work barn into a homey music venue when the garage was no longer enough, Castillo looked to his next challenge: a free all-day festival called Yardstock that would use the field-sized parcel on his family's property.
"Yardstock started out pretty small, I think we had about 20 bands the first year," Castillo said. "Me and my brother built a small stage outside with the idea of splitting the stage in two so we could have one band play while the other band sets up. We were just winging it with the idea of throwing a fest and seeing what would become of it."
What came of it was another challenge. In one year, Yardstock grew from a one-day event with 20 bands to a two-day affair with 40, and the third year brought that total up to 52. At noon Friday, July 8, Yardstock IV will start its first of three days of music, featuring 66 bands on two stages. Free parking and camping is available near the festival area, and when the day begins, festival goers will find more than music waiting for them.
"People will be selling crafts, jewelry, homemade things," Castillo said. "You'll see people playing outdoor games, one popular game that we've had in the past now has been giant beer pong (played with buckets and a soccer ball). Last year some people were playing giant jenga, we've had fire spinners, there's a lot going on."
The main attraction of a music festival is music, and this year's lineup features a number of out-of-state bands like New Jersey's Spirit Breaker and touring groups The Greatest Virtue and Knights of Malice. Local acts like Spur, Embera, Tired Army and Skip Monday will play the festival, and Glen Lyon's Death Grip will film a video at the event Sunday night.
Ashland punk band Condition Oakland has played every iteration of Yardstock and look to keep their streak going with a 10:30 p.m. performance July 9. Guitar/lead vocalist Tyler Troutman, 28, stepped up to help Castillo book the festival.
"When I was making my list of bands to put on Yardstock I wanted to make it diverse, so I booked everything from singer/songwriter acoustic to metalcore," Troutman said. "I wanted Yardstock, from my perspective, to be very accessible to everyone, from a DIY punk rock vet to your normal everyday person that just wants to go and experience a music festival."
Fields and festivals have a long-standing working relationship. Yearly mainstays like Bonnaroo and Firefly make their homes in otherwise nondescript parcels of land that wouldn't attract attention any other time of year except summer, when they're full of people and noise. Castillo's three-day festival offers a low-cost, local-centric option for music fans in Northeastern Pennsylvania.
Camping and parking at Yardstock are both free, but bring money for food and drinks (and band merch).
Yardstock takes place in a field on Shickshinny resident Chris Castillo's property. Over the last four years the festival has expanded from one day to three while remaining free to campers and concert goers.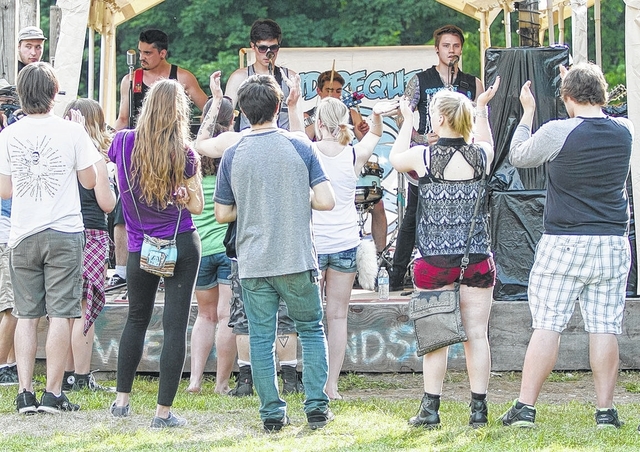 This year's Yardstock festival will last three days and feature more than 66 different bands from Northeastern Pennsylvania and beyond. Festival host and organizer Chris Castillo said he was able to undertake the expansion with booking help from Summer Holds the Earth guitarist/vocalist Derek Jolley, No Less Records owner Bobby Hunt and Condition Oakland guitarist/lead vocalist Tyler Troutman.
A festival attendee relaxes during Yardstock, a free field festival in Shickshinny. This year, 66 bands are scheduled to play over the festival's three days.
Reach Gene Axton at 570-991-6121 or on Twitter @TLArts
IF YOU GO
What: A three-day music festival featuring over 60 different bands
Where: 740 Ridge Road, Orangeville, Pennsylvania
When: Bands start at noon July 8, 9:30 a.m. July 9 and 11 a.m. July 10
How Much: Camping and festival admission are both free. Bring money for vendors and food