Movie Review: Marvel Universe heroes team up in "Captain America: Civil War"
If you would have told me 10 years ago there would one day be a live action movie in which Ant-Man, Black Panther, The Scarlet Witch and several other characters from the Marvel Universe would team-up and get punched all over their faces in a lavishly realized, borderline orgiastic fight scene, I would have instantly slipped into a bliss-based coma.
All of my jeans would have been so effectively and thoroughly creamed that – for at least a month – I'd have to tie a sweat shirt around my waist every time I was forced to leave my front porch. Glassy-eyed, my only response to any question or direct statement would be "Ohhh, Vibranium" followed by a half-hearted apology that kind of just trails off. It would be a gross, terrifying and completely thrilling reminder that life is sort-of worth living.
But, in 2016, most of us have experienced at least a baker's dozen of these Marvel Studios movies. Like the intellectual property on which it's based, the Marvel Studios movies give the illusion of change without really changing anything. The Tony Stark we see in "Captain America: Civil War" is the same Tony Stark we've seen in "Iron Man." He hasn't grown as a character.
And speaking of characters, the novelty of seeing the previously overlooked and borderline obscure likes of Vision and Giant-Man zapping or punching each other on the silver screen has turned into something far more mundane. For me at least, the spectacle behind these movies has plateaued to such a degree, the only time I was surprised was when Jim Rash, Martin Freeman and John Slattery briefly appear on screen. And that's only because I love "Community," "Fargo" and "Mad Men" just a little bit more.
As "Captain America: Civil War" opens the Avengers are attempting to take out a terrorist cell led by Crossbones (Frank Grillo). For those who may have forgotten, Crossbones was a gauntlet wielding bad guy introduced and subtly built up as a badass in "Winter Soldier," but in "Civil War" he's reduced to the level of a barely competent henchman whose quick death is nearly Boba Fett-ian in its disappointment.
At any rate, after creating an international incident, the secretary of state (William Hurt reprising his role as General "Thunderbolt" Ross from the Edward Norton "Hulk" reboot) forces the world's greatest superheroes to submit to U.N. sanctions. Some do, such as Tony Stark (Robert Downey Jr.) which is odd considering he's basically just John Galt in power armor. Others like Steve "Captain America" Rogers (Chris Evans) follows the lead of every confederate flag wavin', seven anti-welfare bumper stickers on their tail gate ownin' patriot as he fights back against the U.N. and its evil, one world governmentin' ways (although touched upon in a mercifully brief manner, the politics in "Civil War" are decidedly right wing). Meanwhile, Captain America's old sidekick Bucky Barnes, a.k.a. The Winter Soldier (Sebastian Stan) is used as a Manchurian Candidate by a weaselly guy named Zemo (Daniel Bruhl) whose terroristic acts mask a more personal and byzantine agenda.
More a stealth "Avengers" sequel than an official entry in the "Captain America" series, "Civil War" isn't just a concise, clear-cut and focused improvement over the eerily similar "Batman V. Superman," it's also better than last summer's "Age of Ultron." Unlike "Age", "Civil War" is leaner and lacks that film's annoying tendency to make its characters sound exactly like their cutesy-quippy screenwriter Joss Whedon. But being a Marvel Studios movie, "Civil War" still carries that bloat. The first half of the film feels like a lazy rehash of "Winter Soldier" as it slowly stumbles from one numbing action set-piece to the next.
Additionally, it's disappointing to see what Scarlett Johansson's Black Widow is reduced to throughout the course of this franchise. Initially starting out as a mysterious loner, she's now barely more than a doting den mother and a neutered sex-object.
But somewhere during the second act, things lighten up. A meeting between Iron Man and Spiderman reminds you of how fun and funny these movies can be while the titular civil war between the Avengers feels like walking through the splash panel of a comic book. Marvel Studios couldn't make a bad movie if they tried, but they don't seem to be trying all that hard to make a good movie.
"Civil War" relies heavily on formula, ensuring that it's little more than a slice of suitably entertaining summer movie product. If you liked the other Marvel Studios movies, you'll like this, but the question is, how much of "Civil War" will you remember by the time you leave the theater?
Anthony Mackie, from left, Paul Rudd, Jeremy Renner, Chris Evans, Elizabeth Olsen and Sebastian Stan appear in a scene from "Captain America: Civil War."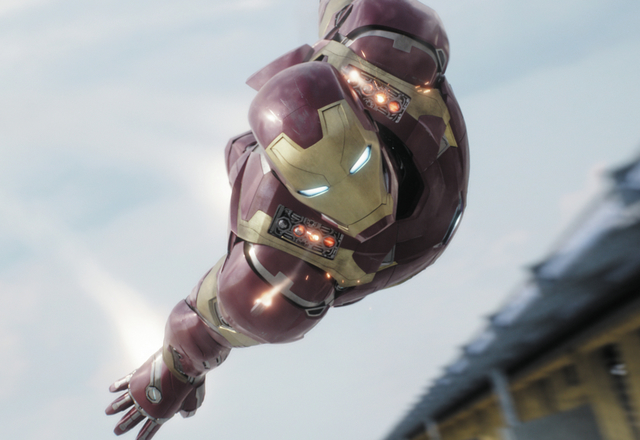 Robert Downey Jr. portrays Tony Stark and Iron Man in "Captain America: Civil War."
Mike Sullivan is a movie reviewer for Weekender. Movie reviews appear weekly in Weekender.
"Captain America: Civil War"
Starring: Chris Evans, Robert Downey Jr., Scarlett Johansson, Jeremy Renner
Director: Joe Russo, Anthony Russo
Rated: PG-13
Weekender Rating: WWV
Length: 147 minutes